Having aired for a whopping 24 seasons since 2003 with no signs of stopping, the America's Next Top Model franchise which is shown in 170 countries worldwide, is a force to be reckoned with. It taught us how to 'smize', 'tooch', spot 'dreckitude', and it supplied us for life with Miss J reaction GIFs. What I find weird though, is how – despite being created by a strong, independent, black businesswoman (the queen that is Tyra Banks) – the show gave airtime to some pretty awful people and normalised worrying behaviour, from racism to homophobia. Sometimes it was shut down, but other times it was pretty much just aired as if normal – so let's take a look back and see were it all went wrong.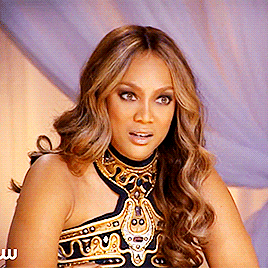 ---
1. In Cycle 3, contestant Yaya was told off for standing up for her African heritage.
Yaya was an African American contestant who had to put up with so much in her cycle. In one instance two white designers cooed, "Oooh Yaya! What an unusual name," and she responded "it's actually a very common name where I come from." Of course, she was berated for having an 'attitude.' In a challenge where models had to choose a different selection of hats to model and Yaya chose a cowboy hat, judge Nigel Barker remarked: "Everyone would have pegged you as going for the African hat," whilst another white judge criticised her "intensity to prove her African-ness, sometimes it's over-bearing." Somehow retaining her cool, Yaya told the judges that she didn't want to pick the African hat as "It is very cliché, the fabric used is very cheap and artificial." When she went on to explain how Afrocentricity is misunderstood, she was cut off and told that it wasn't "fashion" enough. Ok. Why didn't Tyra stand up for Yaya? We'll never know.