Aaron Sorkin's star-studded upcoming film The Trial of the Chicago 7 is heading to Netflix. The streaming giant recently confirmed that it had bought the distribution rights from Paramount for $56 million.
Based on one of the most notorious trials in American history, The Trial of the Chicago 7 follows a group of seven defendants charged with conspiracy, inciting to riot and other charges in relation to anti-Vietnam War protests that took place in Chicago, Illinois in 1968.
The riots took place in a year of political turmoil and civil unrest, occurring in the wake of the assassination of Martin Luther King Jr. in April and followed by the assassination of presidential candidate Robert F. Kennedy in June.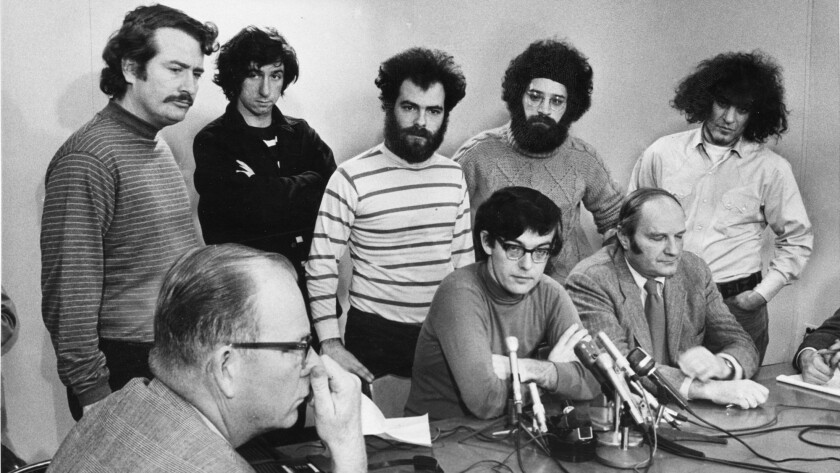 The all-star ensemble cast includes Sacha Baron Cohen as Abbie Hoffman, Eddie Redmayne as Tom Hayden and Yahya Abdul-Mateen II as Bobby Seale, alongside Joseph Gordon-Levitt, Michael Keaton, and Mark Rylance.
The news comes after The Lovebirds, another film intended for distribution by Paramount on 3 April 2020, was offloaded to Netflix because of the effect of the pandemic on cinemas. Continuing uncertainty into the autumn – The Trial of the Chicago 7 was set for release in September 2020 – pushed the film company to another round of negotiations with Netflix.
A new release date is yet to be confirmed, but speculations put it before March 2021 so the film can be considered for the next awards season. The eligibility period for the Oscars was recently extended to 28 February 2021 accommodate for COVID-19 restrictions, and will also allow online-only debuts to be considered where films are ordinarily required to have been screened in a Los Angeles cinema for at least a week.
However, there are also speculations that, due to the political themes at the centre of the picture, the release will come before the US election day on 3 November 2020.
The Trial of the Chicago 7 is both written and directed by Sorkin. In 2011, he won Academy Award for Best Adapted Screenplay for The Social Network, and was nominated for the same award in 2011 for Moneyball and 2015 for Molly's Game.
Words by Olivia Emily