With countless iconic roles and three Academy Award nominations under his belt, Danish-American actor Viggo Mortensen has turned his hand to directing. The result is a foul-mouthed intergenerational drama that grapples with the slippery subject of dementia.
It came as no surprise that Viggo Mortensen, the very definition of a polymath, had turned his hand to directing. Perhaps more surprising was the difficult task he had given himself, also being the film's producer, writer and star actor. Falling certainly cradles the audience in safe and assured hands, but the material itself is exhaustingly mean-spirited, seriously hampering our ability to understand its raison d'être.
Falling introduces us to John (Mortensen), a middle-aged pilot who is happily married to his husband Eric (Terry Chen). His own father Willis (Lance Henriksen) is conservative, homophobic and generally abusive to all members of his family in one way or another. On top of these glittering attributes, he is starting to show signs of dementia, as well as suffering from an ongoing colon problem. When Willis is forced to stay with John for a short period in order to set out his care plans, long-suppressed emotions are pushed to the fore. Interspersed with the present-day events are flashbacks showing John as a child, living with a younger Willis (Sverrir Gudnason) and John's mother Gwen (Hannah Gross), who died in a car accident before John had reached his teens.
There are welcome cameos from Laura Linney as John's sister who unsuccessfully tries to keep the peace and legendary director David Cronenberg as a proctologist. They help further bolster the rest of the strong cast, all of whom try their best to make us care about this sorry family that is far too kind to their curmudgeonly old fart of a patriarch.
Since his childhood, John has been subjected to a barrage of emotional abuse from Willis. This comes mainly in the form of homophobia, using repeated slurs like "cocksucker," "fag," "pansy" and "fairy." Considering this ongoing abuse and taking the obvious generational trauma into account, Mortensen's mild-mannered portrayal of John is frustratingly clear-headed, until one rather predictable scene near the end. This subtle weariness is certainly acted well, but gives free rein for Henriksen to insult, slur and bulldoze his way through the film with little-to-no challenge: an arduous task for the audience to sit through. The Sisyphean task of dealing with Willis is just too laboured, for both John and the audience.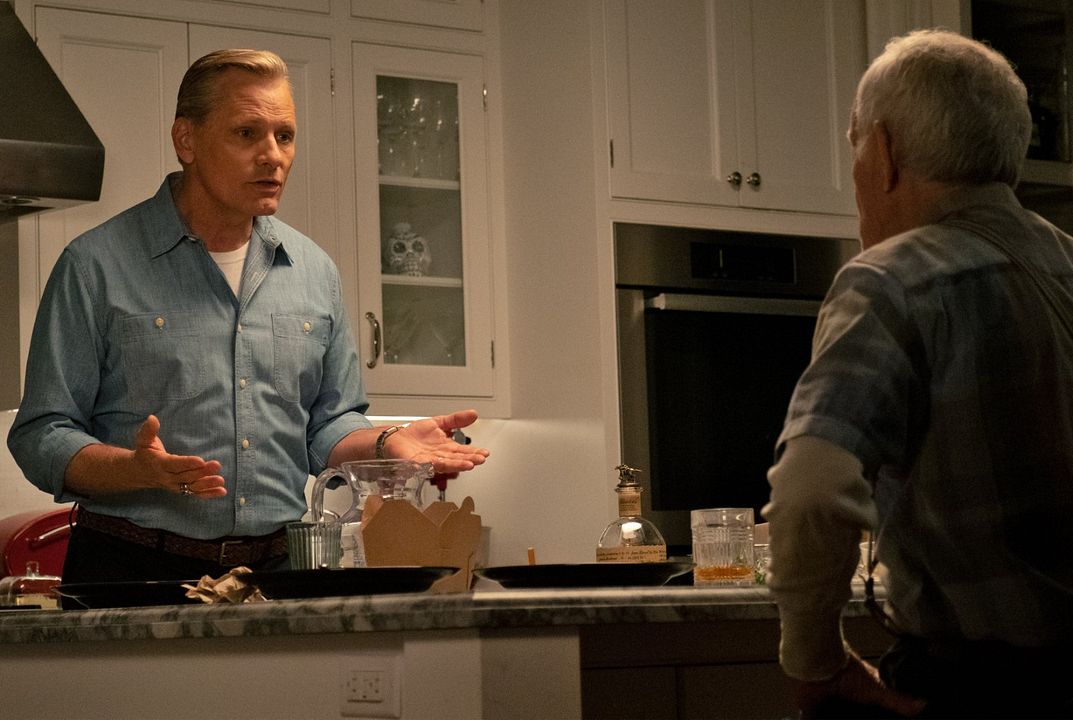 Indeed, the main issue that I had with Falling was its unconvincing stance on how to deal with difficult family members. Should we reject our right to personal boundaries and to refuse to deal with unacceptable behaviour, just because of the vague reasoning of 'cos family'? After decades upon decades of abuse, does there not come a stage where you cut someone off? The character of Willis is so deeply, incessantly and unapologetically unpleasant—both before and during his dementia—that to merely spend two hours with this repugnant character is quite the slog. It's tiresome, as opposed to inspirational, to watch Mortensen doggedly campaign for compassion with the weary grit of one trying to staple jelly to a wall. 
The topic of dementia seems muddled; some dialogue seems to suggest that Willis' confusion of past events is actually linked to some form of wish-fulfilment, grief or guilt, though this isn't explored enough. At points I hoped that Falling was going to explore some interesting interpretations of dementia, perhaps being an evil progenitor of revisionist history. But with dementia essentially not changing Willis' personality, there was little breathing room for this analogy to flourish, nor much point to his dementia at all. 
With the expository dialogue sometimes feeling a touch on-the-nose, it's the moments of stillness, where the audience's intelligence is trusted, that helps the film shine. Though the end titles suggest this story is one close to Mortensen's family, I would like to see him direct someone else's script should he stay in the director's chair. Some of Falling's frames were quite beautiful and affecting, adopting a more nuanced cinematic language that acted as a salve to melodramatic dialogue.
The Verdict
For a debut venture, Mortensen's film is anchored well enough by the stellar acting talent and a sprinkling of moving scenes that nearly hinted at brilliance. But in a year where many prestige dementia dramas are being released—from Supernova to The Father—Falling may struggle to stand out.
Rating: 5/10
Falling is released in the UK on 4 December by Modern Films.
Words by Steph Green
---
Support The Indiependent
We're trying to raise £200 a month to help cover our operational costs. This includes our 'Writer of the Month' awards, where we recognise the amazing work produced by our contributor team. If you've enjoyed reading our site, we'd really appreciate it if you could donate to The Indiependent. Whether you can give £1 or £10, you'd be making a huge difference to our small team.