Today, Scottish actor Ewan McGregor is turning 50. In honour of the actor's milestone birthday, we're looking back at his varied and sparkling career.
From his mainstream role as bearded Jedi master Obi-Wan Kenobi to his Golden Globe-nominated role in Baz Luhrmann's Moulin Rouge!, Ewan McGregor has acted across a range of different genres. With such a vast career, it's difficult to summarize his breadth of noteworthy performances. Yet, in keeping with this special occasion, we're going to be attempting just that. To showcase his unique versatility as an actor, we're delving into some of his most iconic and wide-ranging on-screen roles.
Trainspotting
In 1996, McGregor reached international stardom with his role as Mark Renton in Danny Boyle's black comedy drama Trainspotting.
Through the eyes of our protagonist, we are given a raw and surreal outlook on the realities of heroin addiction. Renton's story is a cautionary tale with McGregor perfectly capturing the horrific side effects of his questionable lifestyle.
While not being the most endearing individual, audiences still find themselves rooting his redemption. In breaking the archetype for typical protagonists, Renton has become a cult icon. Arguably this is McGregor's definitive performance that will go down in British film history.
Moulin Rouge!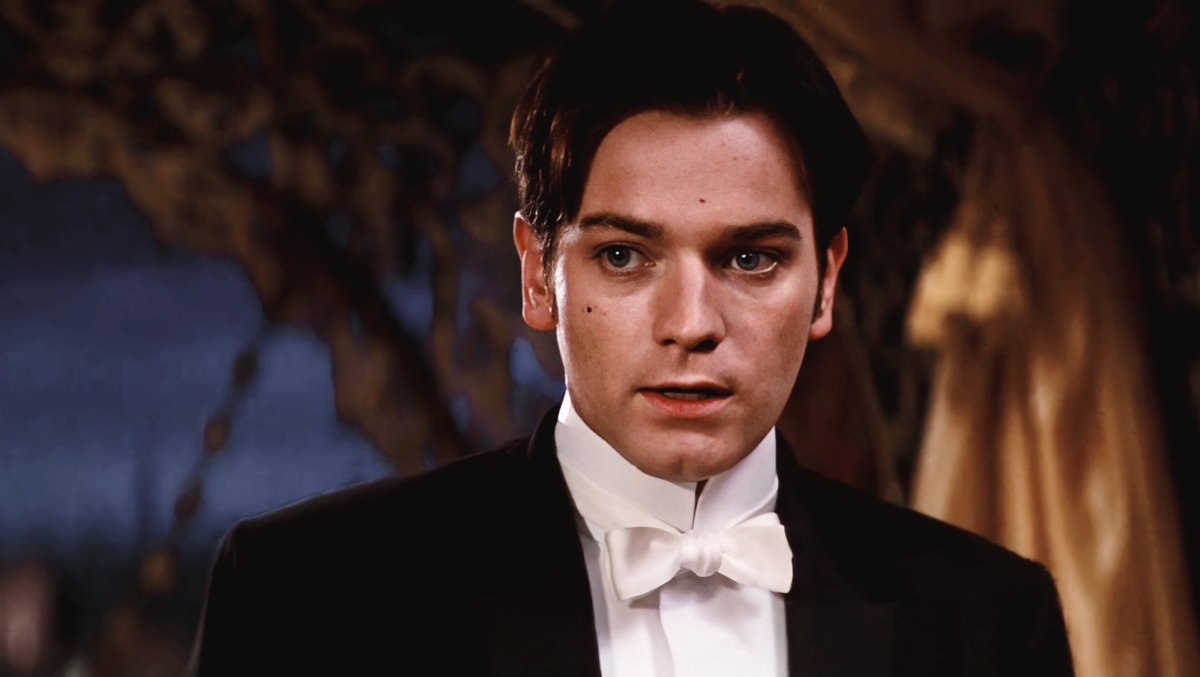 In 2001, McGregor decided to put on his singing and dancing shoes for Baz Luhrmann's spectacular jukebox musical Moulin Rouge!. Young poet Christian (McGregor) exudes the warmth and charisma of a traditional romantic hero. The tides turn when our sweetly naive main character is plunged into the glamour and extravagance of the titular Parisian venue.
Although Luhrmann has a melodramatic cinematic style, the actor embraces this fully with no inhibitions. As such, he perfectly couples with Nicole Kidman's portrayal of the beautiful star, Satine. Alongside showing off an impressive vocal range, McGregor enchants us with a stunning flair for showmanship.
As a result, this may have kick-started a future in musical theatre as four years later he starred alongside Jane Krakowski, Douglas Hodge and Jenna Russell in the Donmar Warehouse revival of Guys and Dolls from June 2005 to April 2007. He played the leading role of Sky Masterson and was nominated for a Laurence Olivier Award for Best Actor in a Musical in 2007.
The Star Wars Prequels
Despite a mixed reception, it is safe to say the spirit of Obi-Wan Kenobi is strong in this one. McGregor's role as the young Jedi Master from a young student to an ageing warrior is a stellar one.
Not only does he capture the calm nature of Sir Alec Guinness's original performance, he still carries over his own unique touch to the role giving us the outlook of a young man who's learning.
Throughout the trilogy, we see him grow into the role. Even though the dialogue is very hackneyed, he commands authority in each scene flawlessly. For some, this commendable performance was the "best thing about the trilogy."
Big Fish
McGregor also delved into the world of whimsy in Tim Burton's 2003 drama Big Fish. In line with Burton's previous films, there is always an unsettling element to his stories that juxtaposes with fantastical elements. 
On his deathbed, Ed Bloom (Albert Finney) recounts his numerous fantastical adventures throughout his life to his son. However, these exaggerated stories about his life have caused an immense strain on his relationship between his son Will (Billy Crudup). 
McGregor plays Ed's younger self and perfectly encapsulates the bright-eyed optimism of typical Burton heroes and heroines. This heart-warming performance is enough to put a smile on any audience's face.
Birds of Prey
Yet in contrast to this warm demeanour, he decides to tread the more villainous territory in Cathy Yan's Birds of Prey.
In contrast to Suicide Squad, where one of DC's most infamous antagonists was at most laughably bad and at worst scorned by fans, McGregor gave this Harley Quinn movie some real stakes. He perfected the Hopkins-esque skill of being comedic at one moment, yet flipping the switch immediately and filling the audience with terror and hatred. Thus, it is no wonder he is being praised as one of the "strongest villains in the DCEU."
Beauty and the Beast
While we may only get a small glimpse at our Scottish actor at the end, hearing McGregor voice the role of Lumiere was simply enchanting.
Although he came under fire for his French accent apparently sounding more "Mexican rather than French," there is still so much charisma. However, in some ways, the off-radar accents in our most beloved films just add a certain je ne sais quoi. Throughout the years, fans have mocked Dick Van Dyke's "atrocious cockney accent" in Mary Poppins, yet the charm he brings to that film is undeniable. Likewise, the same can be said for McGregor here. His rendition of "Be Our Guest" hit a nostalgic chord with audiences worldwide. To be able to recapture that magic is something to be admired.
Beginners
A film which many have described as his "most vulnerable performance yet," the Scottish actor takes on the role of Oliver in the 2010 romantic drama Beginners.
Despite his role striking a lot of similarities to Christian in Moulin Rouge, especially with his romantic pursuit of a French actor, the heart of this performance comes from the intimacy between son and father (Christopher Plummer).
Thus, this film showcases McGregor's intrinsic sensitivity. Oliver truly embodies warmth and hope and each scene with Hal, Oliver's father, who admits his terminal cancer and comes out as a gay, pulls tightly at our heartstrings. As a result, each actor's heartfelt performances creates a raw and intimate drama perfectly showcasing McGregor's intrinsic sensitivity.
The Impossible
McGregor further demonstrates emotional depth in his performance in the The Impossible. This disaster drama portrays the harrowing true story of the Belón family during the devastating 2004 Indian Ocean tsunami. McGregor's performance brings the trauma and tragedy of the forefront. 
As soon as the nightmare unfolds, our heart wrenches for the entire family in seeing them torn apart. McGregor brings so much humanity and realism to his performance. It doesn't feel like we're watching someone act—we are plunged into the horrific incident in all its terrifying brutality. 
Words by Katie Heyes
---
Support The Indiependent
We're trying to raise £200 a month to help cover our operational costs. This includes our 'Writer of the Month' awards, where we recognise the amazing work produced by our contributor team. If you've enjoyed reading our site, we'd really appreciate it if you could donate to The Indiependent. Whether you can give £1 or £10, you'd be making a huge difference to our small team.