Stuck on what to stream this month? Unlike other lists, we're on hand to recommend a variety of films for every mood, from tear-jerkers to trailblazers. Here are our picks for the best films to stream in the UK this month.
---
The Silver Screen Classic
La Dolce Vita (1960) dir. Federico Fellini
Even if you haven't seen it, the title of this iconic movie almost certainly rings a bell. La Dolce Vita has been acclaimed and beloved throughout the decades since its 1960 premiere. It's the very definition of a classic, with its quintessentially sixties style yet painful depiction of the intoxicating, destructive effects of celebrity, glamour and pleasure. Following seven days in the life of a playboy gossip journalist (Marcello Mastroianni), the film is luxurious yet claustrophobic, diving headlong into a Cold War-era Italy full of ancient ruins, religious icons, glittering nightlife and frenzied crowds of paparazzi—just as its protagonist dives headlong into a hedonistic, doomed search for fulfilment and happiness.
Available to stream on MUBI
---
The Underrated
The Lovebirds (2020) dir. Michael Showalter
Still warming up for his upcoming role in Marvel's The Eternals, Kumail Nanjiani stars here opposite Issa Rae as Jibran and Leilani: a vitriolic, unsatisfied couple who, approximately five seconds after breaking up, are framed for a murder. As such, they're forced to go on the run together, embarking on a high-jinks-filled odyssey of blackmail, torture by horse, Katy Perry's "Fireworks" and a masked sex cult. It's as enjoyably wacky as it sounds, but combine a pandemic-induced small-scale Netflix release and very mixed reviews, and you've got a project that risks quickly fading into obscurity. The Lovebirds, though, is far more enjoyable than it's given credit for. True, it doesn't revolutionise the rom-com genre, but it's still a fun, escapist ride. Most notably, its many plot holes are offset by genuinely funny moments, and by the excellent performances and believable chemistry of Nanjiani and Rae. 
Available to stream on Netflix
Available to rent on Amazon and Apple TV
---
The Underseen
Wùlu (2016) dir. Daouda Coulibaly
This French-Senegalese crime drama, set in Mali, puts the 'hidden' in 'hidden gem' to the extent that your search engine will probably ask "Do you mean hulu?". But don't let the obscurity put you off—especially not if you're a Scarface fan, because this intense, high-stakes thriller is the kind of thing you'll love. Ibrahim Koma is especially praiseworthy in his starring role as Ladji, a bus driver who turns to drug smuggling in a desperate bid to get his sister Aminata (Malian-French singer Inna Modja) out of the sex trade. Unsurprisingly, despite the lucrative results, things go downhill fast. Ladji's downward spiral into increasingly dangerous criminal endeavours is set against a backdrop of terrorism, a military coup and the tortuous, chaotic legacy of Mali's colonial past.
Available to stream on MUBI
---
The Foreign-Language Gem
The Wayward Girl (1959), dir. Edith Carlmar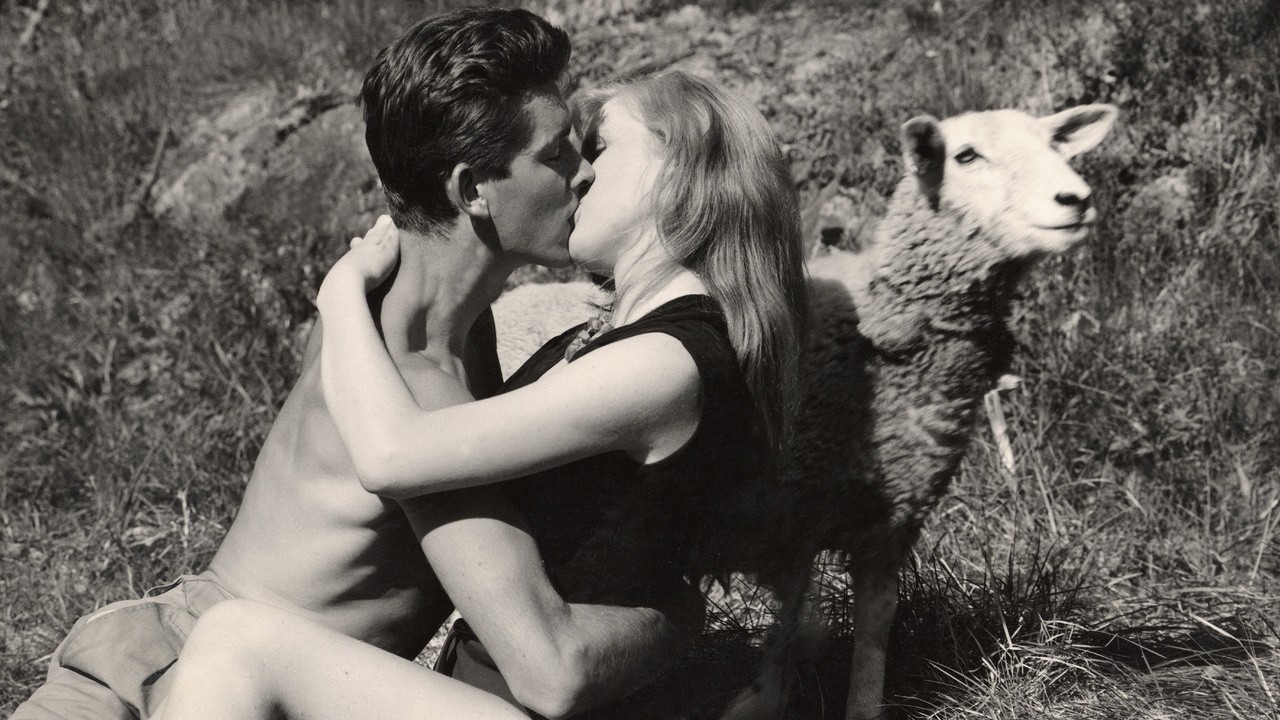 The kind of film that could never have been made in 'classic' Hollywood thanks to the puritanical Hays Code, Ung Flukt (to give its original, Norwegian title) marked the debut of actress Liv Ullman, while being Carlmar's last ever feature film. Norway's first-ever female director, Carlmar never shied away from controversial subjects and this movie, with its frank depictions of nudity and extra-marital sex, is no exception. The premise is simple enough: working-class 'bad girl' Gerd (Ullman) falls for middle-class student Anders (Atle Merton). Facing hostility and disapproval, they flee to a beautiful woodland cabin—but no idyllic retreat can guard a relationship against outside forces, or the flaws of human nature. If you're looking for hidden gems of the silver screen, this one is a must-watch.
Available to stream on MUBI
---
The Tearjerker
Pieces of a Woman (2020), dir. Kornél Mundruczó
As deserving as Frances McDormand was of her Best Actress Oscar for Nomadland, most will no doubt agree that Vanessa Kirby also fully deserved the nomination she got for her widely acclaimed performance in Pieces of a Woman. Kirby plays Martha, an expectant mother whose baby daughter tragically dies not long after delivery—a horrific event which, unsurprisingly, puts huge amounts of strain on both Martha and her relationships with her family and partner (Shia LaBeouf). Mundroczó and his partner Kata Wéber, who wrote the screenplay, were inspired by their own experience of miscarriage, and according to the critics, you can really tell. Although some plot points were met with scepticism, critics have mostly applauded the film's sensitive and accurate handling of the grief and trauma of baby loss. Kirby's performance, meanwhile, has been more or less unanimously praised.
Available to stream on Netflix
---
The Feel-Good
Rodgers and Hammerstein's Cinderella (1997), dir. Robert Iscove
I know, I know… a musical based on a fairytale. One starring Brandy, Whoopi Goldberg and Whitney Houston, but still. Didn't we all suffer through enough pre-lockdown Christmas pantomimes? Then again, if you were a '90s kid, maybe the nostalgia is kicking in already. After all, this production—itself the second remake of a made-for-TV original starring Julie Andrews—is still one of the most beloved film adaptations of Cinderella ever, even after over two decades. It got mixed reviews from critics at the time, but the songs are delightful, the humour has aged fine, the performances from the cast are just fun enough to be loveable instead of cloying. On the whole, it's 88 minutes of whimsical, magical fun. Not to mention, the production was refreshingly ahead of its time thanks to a groundbreaking amount of diversity among the cast.
Available to stream on Disney+
---
The Trailblazing
Queen of Katwe (2016), dir. Mira Nair
If you think of screen dramas about chess, you probably only think of The Queen's Gambit and, with the greatest of respect to Anya Taylor-Joy, that's really a shame. This comparatively light-hearted biopic, starring Madina Nalwanga, Lupita Nyong'o (Black Panther, Us) and David Oyelowo (Selma, A United Kingdom), deserves far more attention that it has. Nalwanga gives an excellent debut performance as Phiona Mutesi, a real-life chess player who grew up in the Katwe slum neighbourhood of Kampala. Still, it's Nyong'o who really steals the show as Phiona's jaded and heartwarmingly fierce mother. And meanwhile, following years of media depictions that have left Africa woefully misunderstood as a hellscape of famine, dictators, disease and child soldiers, Queen of Katwe has notably received praise for its nuanced, optimistic and entirely White Saviour-free depiction of Uganda and its people.
Available to stream on Disney+
Available to rent on Amazon and Apple TV
---
The Transgressive
Derren Brown: The Push (2018), dir. Jon Richards
Could an ordinary human being, with the right amount of manipulation, be persuaded to end another person's life? That's the scary question that 70 actors, plus hypnotist Derren Brown, attempt to answer. The hapless Chris is pressured into a series of increasingly morally questionable acts, culminating—potentially—in murder. Except, as you might have already guessed, Chris is not an actor. He's the unsuspecting mark in a chillingly elaborate prank, with the ultimate goal being to convince him to commit a fake murder—that he believes is real. Brown, for his part, insisted that everyone involved was fine afterwards, while audience reactions have ranged from "Derren Brown Is An Evil Genius" to viewing the project as tantamount to Stanford Prison Experiment-esque psychological torture. Even New Zealand's Office of Film and Literature Classification had concerns. Can't decide which? Stream it yourself and find out.
Available to stream on Netflix
Words by Emma Curzon
---
Support The Indiependent
We're trying to raise £200 a month to help cover our operational costs. This includes our 'Writer of the Month' awards, where we recognise the amazing work produced by our contributor team. If you've enjoyed reading our site, we'd really appreciate it if you could donate to The Indiependent. Whether you can give £1 or £10, you'd be making a huge difference to our small team.