Despite YouTube imitators and changing cultural sensibilities, the thirst for pure Jackass-ery has remained undiminished. Harry McKerrell talks through the franchise's unending appeal, ahead of the release of Jackass Forever.
When Jackass Forever was announced last year, seven years after the previous instalment, it came as surprise to many. But considering the franchise's status as a bona fide cultural phenomenon, fans were delighted at the prospect. Despite its genesis as a home-made stunt catalogue on MTV, the series has become staggeringly successful, spawning sequels, spin-offs and—despite protestations for viewers not to 'attempt any of the stunts you're about to see'—plenty of imitators.
The show's origins were suitably rudimentary. Seeking employment as a journalist-cum-actor, walking crash test dummy Johnny Knoxville teamed up with magazine editor Jeff Tremaine to film an 'article' wherein Knoxville would test 'self-defence equipment', spraying himself with pepper spray, getting zapped by a stun gun and writhing in agony as a Taser embedded in his abdomen. Knoxville's superhuman ability to suffer serious physical trauma one moment before demonstrating cogent lucidity the next was an attribute which would ultimately define his career.
From this gonzo genesis came the original Jackass series, a nine-man exhibition of amateur idiocy which saw cast members diving off buildings, consuming bodily fluids and dealing one another so much testicular trauma it's a miracle of modern science that most of them are now fathers. Despite signing off on the series after the third season due to grumbles about lack of creative control, the chaotic abandon of Jackass had tapped into the consciousness of millennial America, so that when the first movie was released in 2002, assertions that this was to be a final send-off to the hit series now seem hopelessly short-sighted. As the numerous series spin-offs, from Wildboyz to Viva La Bam demonstrated, there was an unsatiated appetite for further absurdity.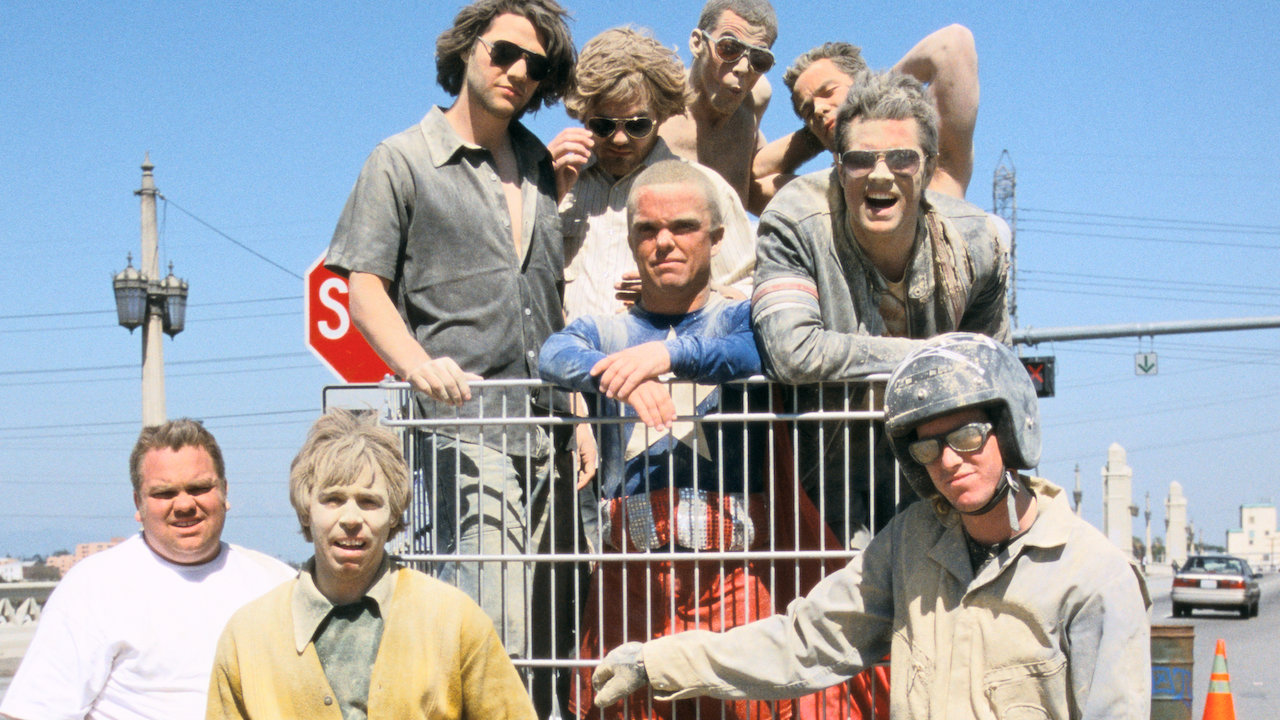 Jackass: The Movie spawned two further sequels. But when Jackass 3D was released in 2010 with a cast now approaching their 40s, it seemed that the crew were finally looking to hang up their skateboards. When cast member Ryan Dunn passed away a few weeks after the movie's release, the end loomed.
Yet it seems that the end has been postponed. Fittingly for a cast who have spent their lives cheating the Reaper, the Jackass brand has refused to die. Despite YouTube imitators, the elapse of time and changing cultural sensibilities, the thirst for pure Jackass-ery has remained undiminished. Steve-O has remained a popular social media presence. Knoxville has released two tangential Jackass movies in Bad Grandpa and Action Point. Bam Margera commands 2.3 million Instagram followers. Despite it all, the Jackasses have never fallen from the public psyche.
Featuring the original surviving cast bar Margera, who was expelled from the project due to continued drug abuse, Jackass Forever will also introduce a host of new faces to the 'JCU', from rapper Jasper Dolphin to Zach Holmes from Too Stupid to Die. The film is also set to feature cameos from Shaquille O'Neal, Eric Andre and Post Malone. Despite the depleted roster and most members' advancing ages, this final chance to see a group of irresponsible men dole out scrotal punishment and satisfy their endless fascination with faeces heralds a much-anticipated comeback, beyond the puerile thrill of seeing a port-a-loo bungee jump. Why, after all this time, is there still a market for such absurdity?
The Jackass series itself was predicated less on outrageous stunts than it was on grainy DIY charm. With a limited budget and little initial backing, the show had to offer more than spectacular thrills to gain any meaningful following. While a male-dominated stunt series could have descended into a laddish mess predicated on cheap shocks and frat-boy banter, the show's underlying theme became a wholesome expression of male friendship, of guys making their own fun in small-town America outside of society's rules. Jackass's blatant homoeroticism, for instance, was touted proudly by Steve-O in an interview with Vanity Fair: "it was funny to force a heterosexual generation to deal with…homoerotic humour. All our gay humour has been an attack against homophobia."
Steve-O's declaration was sincere. Jackass embraced a more positive form of male bonding: in drinking one another's bodily fluids, fondling one another and being naked at every available turn, it celebrated the idea that groups of men being 'intimate' with one another wasn't shameful or disgraceful. Instead, it was a way of rejecting America's rigid social taboos around censorship and social propriety, celebrating positive masculinity without shame or embarrassment.
It's that subversive streak which really made Jackass sing. There's a skit wherein member Chris Pontius dresses as Satan and preaches 'Keep God out of California', only to be physically attacked by an outraged bystander. "That's not very Christian" quips Pontius as he gleefully takes a blow to the head. The baiting of reactionary ultra-conservative Americans isn't quite peak Sacha Baron Cohen, but it brings hatred into the light nonetheless.
If Pontius' Satan prank exposed prejudice, most others were simply excuses for cheerful self-humiliation. Be it overweight Preston Lacy chasing Jason 'Wee Man' Acuña across a busy street in his underwear or Knoxville dressing in octogenarian prosthetics to brazenly 'shoplift' from a corner store, our heroes craved self-flagellation rather than incitement of harm. Yes, occasionally the public were perturbed when their afternoon's golf was interrupted by a hidden airhorn, but ultimately the show was about proud humiliation of self rather than others.
Among the griminess and the contusions, Jackass' genuine warmth and glee radiates from the screen. Yes, there are often screams of pain, but it's Knoxville's infectious laughter which rings the loudest above the chaos. Lesser shows like Dirty Sanchez merely wallowed in the filth of their antics, but their American counterparts always infused proceedings with a charismatic abandon which made viewers feel as though they were hanging out with their friends rather than observing something contraband.
Jackass Forever must recapture the spirit of guys getting together and hurting one another out of love rather than spite. Yes, we hope the cast continue to push the boundaries in search of the next great stunt, but after a period when we've been denied social contact, we crave camaraderie as much as chaos. The new trailer's promise of "getting together with old friends" recognises the heart of why the franchise has always worked and why, if this is to be the last outing, it will be sorely missed.

Words by Harry Alexander
---
Support The Indiependent
We're trying to raise £200 a month to help cover our operational costs. This includes our 'Writer of the Month' awards, where we recognise the amazing work produced by our contributor team. If you've enjoyed reading our site, we'd really appreciate it if you could donate to The Indiependent. Whether you can give £1 or £10, you'd be making a huge difference to our small team.