On the morning of the 27th of February, the world lost one of its greatest icons of television. Leonard Nimoy, best known for bringing to life the beloved Vulcan, Mr Spock, lived a long and prosperous life that inspired fans and actors alike. As the world mourns the loss of such a legendary pioneer, a few of our contributors reveal what Mr Nimoy meant to them.
---
Leonard Nimoy is one of few celebrities that have touched a vast number of lives simply be being themselves. I personally first encountered Nimoy, like many fans, through Star Trek – and I was undeniably endeared. For me, it was the realness that Nimoy brought to the character that made him so appealing; from the blatant flaunting of purple eye shadow under his signature brows, to the mastery that allowed Spock to express his logical and distant countenance, as well as his humorous human half. Surprisingly to me, his influence continued into other aspects of popular culture – his poetry for one thing demonstrates true wisdom and passion combined with admirably intelligent craft, and his musical career is undeniably uplifting (no matter how strong your indie tendencies may be).
It is with a heavy heart that we bid farewell to our Honorary Grandfather, though he shall never, ever be forgotten. LLAP.
Words by Charlie Ginger Jones.
---
Leonard Nimoy was quite literally a legend. As the infamous face between the pointy ears of his Star Trek character Mr Spock, he was an icon of popular culture. And he took the role on with incredible joy and humility all his life – signing off every tweet proudly with the abbreviation 'LLAP'. In a world where actors are forever keen to detach themselves from their breakouts role, actors like Nimoy were refreshingly different in the hearts of fans. Of course, that didn't stop him from pursuing other projects. Personally, it still astounds me that he directed Three Men and a Baby – such a fun and overtly silly comedy, so far removed from the logical stance of Spock. He was also the distinctively rich voice of the King in Disney's Atlantis: The Lost Empire – which for me, was one of the first films I ever remember seeing at the cinema. And of course, he's also given delightful cameos in shows like The Simpsons and The Big Bang Theory. To remember him best though, I feel that it's 'only logical' to look back with joy, not only at his film projects but at his bizarrely wonderful discography – Alongside 'The Ballad of Bilbo Baggins', this song – 'Highly Illogical' – exemplifies his character beautifully, as a warm and funny man who wore his iconic status with pride.
Live Long and Prosperously in the next life, Mr. Nimoy.
https://www.youtube.com/watch?v=6C70QRbawN8
Words by Annie Honeyball.
---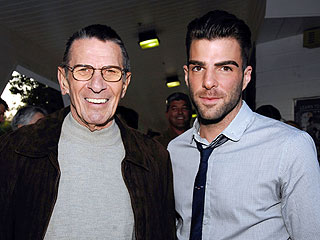 There will never be another Leonard Nimoy. Not even anyone remotely like him. Like many people my age, I first fell in love with Star Trek after J. J. Abrams' re-imagining hit the screens a few years back. Whilst Zachary Quinto managed to capture the nonchalant face of Mr Spock, it was Nimoy's interpretation that captured my heart. Often regarded as one of the founding fathers of science fiction, Leonard will rightfully go down in history as one of the most valuable players in an ever-expanding universe. What many people don't know about Leonard Nimoy is how much he pioneered for equality in the workplace. Gene Roddenberry would often refer to him as 'the conscience of Star Trek' after he campaigned to get Nichelle Nichols equal pay on set. For me, it is this devotion to the cause that will have a lasting effect on the world. Whether through his acting, singing, poetry or just his kind-natured approach to the world we live in, Leonard Nimoy's legacy will live on beyond all of us.
We (Vulcan) salute you, Mr. Nimoy. Live Long and Prosperously up there.
Words by Sophie Mace.