When I was in reception, my school report said something like "Rosie tends to choose the library corner in her spare time." Fourteen years later and that love of books and reading hasn't disappeared, to the point where I hope to go on next year to read more in an English Literature degree. As cliché as it sounds, books offer a sense of escapism and a sense of perspective (quit the complaining that you're stressed about your A levels and put it in perspective because Tess, in Tess of the d'Urbervilles, has struggles that are probs more severe than your coursework deadline). Books have become to me a part of my identity – if I leave the house without a book in bag I feel a sense of panic. These are some of the books that mean a lot to me.
---
Utterly Me, Clarice Bean // Lauren Child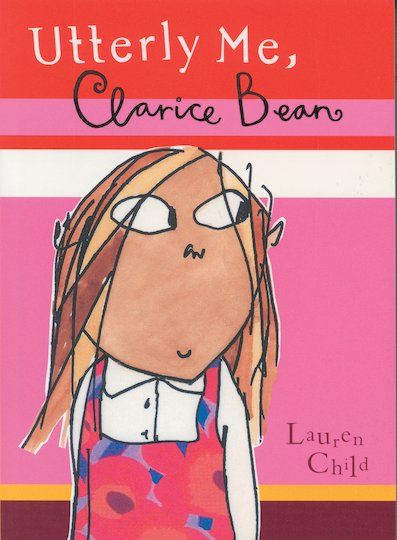 Maybe not the most intellectually stimulating of my choices (and I can hear my English teacher give a disapproving 'hmmm' if he ever were to read this), but Clarice Bean was one of my favourite books when I was around eight, to the point that my copy of Utterly Me, Clarice Bean is dog eared, spine broken and ripped in pieces because it has been re-read, and re-read and re-read.
Clarice's cheekiness and feistiness reminded me a lot of my own, and she was a character I could relate to in that sense. Speaking of her school she tells the reader "You might think it would be a relief to come to school, but if you do, then obviously you don't know some of the people in my class. Naming no names, i.e Grace Grapello, what a show off." She was opinionated and funny, and her personal analysis of others' behaviour – "How can she say this?????" and "Is he losing his mind????" – mirrored a lot of what I thought about my peers and teachers in Year Four. Clarice was also a character I envied, and as a result I attempted to emulate. In the opening of the book she explains "I am not an only child, but sometimes I wish I was;" while I found myself an only child, I sometimes wished I wasn't. She was also cool; she wore pinafores and thick-rimmed glasses, and hid in the laundry cupboard to read books. I admit when I entered sixth form my uniform might have styled itself a little bit on Clarice Bean. I also loved Child's format of the book: no single font or letter size was used and sentences would swirl off around the page so that you'd sometimes have to read it clockwise. Her illustrations were stylish, and to my awe she would blend drawings with photographs, making the book like no other I had ever read.
Even though it's categorised as a children's book it shouldn't be dismissed as something you should no longer read. Utterly Me, Clarice Bean is arty, clever, witty and true. At age eighteen now, I'll revisit it again and again.
[button color="red" size="normal" alignment="none" rel="follow" openin="samewindow" url="https://www.indiependent.co.uk/life-books-rosie-coleman-collier/2″]Next[/button]