After receiving mass critical acclaim for her second feature The Rider, writer/director Chloé Zhao looked destined for greatness. As well as helming Marvel's highly-anticipated Eternals, her latest release, Nomadland, takes her to to the stratosphere.
Adapting Jessica Bruder's bestselling book, Nomadland is at its core, a wholly human story. It follows Fern (Frances McDormand), a 60-something woman living out of a van, whilst travelling and working across the American West. This is the life of a 'Nomad' – in Fern's case, she's a victim of 2008's Great Recession. It took everything from her, condemning her to a life of solitude and lack of a permanent home.
Where this story hits hardest is with its hyperrealism. Sadly, this is the reality for many American people and Zhao opted to use real Nomads in order to achieve total authenticity. This adds an emotional layer to the film that appeals to one's humanity, creating a powerful, reactionary feeling.
Nomadland constantly finds itself asking wide-ranging questions. From the topics of existence, death and loneliness to an odd yet unique critique of capitalism, its affecting message is universal. Carefully woven into the film are moments where your breath is taken away by a beautiful line of dialogue, resulting in several tear-jerking reactions. It's a real testament to Zhao's direction that Nomadland hits every emotional beat with such control, always perfectly on the mark.
I said an odd critique of capitalism, as the film does include some conflicting scenes in an Amazon workplace. Though not officially pro-Amazon, one would hope that a film whose general message is a subtle takedown of capitalism, doesn't mean to pander to one of its greatest villains. Bar this somewhat unfortunate mishap, Nomadland is a a powerfully written, transcendent film that questions our humanity on this long, lonely journey through life.
The film's various settings speak volumes about what Nomadland is trying to say about America. The stunning use of natural light paints a pretty portrait of its vast tundras and deserts, with glorious mountains looming large behind. Purple-tinged skies, hazy mountain mornings and blankets of snow make Joshua James Richard's cinematography up there with the year's best. The inspired use of long, lingering close-ups connect you effortlessly with the characters, heightening the emotional payoff. It's a truly sublime visual experience.
That said, Nomadland is a perfect example of a film visually realising its message. Though these various locations are drenched in beauty, their harsh environments and barren wastelands of former glory reflect Fern's struggle, as it does many real-life Nomads' lives. The film deftly shows the American Dream grounded in its bleak reality. Vast and beautiful yes, but the land of opportunity it is not.
Helping to capture the atmospheric feeling that Nomadland offers is Ludovico Einadui's simply lovely score. The prolific composer re-recorded some famous tracks, where the smooth, sharply-mixed sounds really cut through the film. It's a welcome addition to Nomadland's excellent audio-visual experience. Some really slick, almost invisible editing between long takes further demonstrate what a well crafted film this is.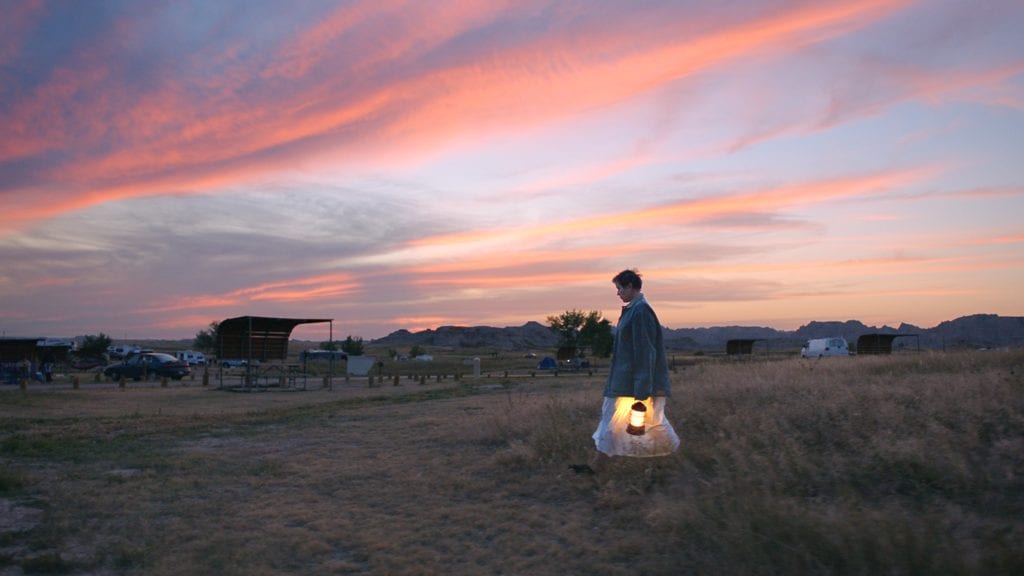 At this point in her stellar career, there's no superlatives left to describe Frances McDormand. The two-time Oscar-winner elevates Nomadland like only she could. Whether it's her chameleonic acting ability or not, she plays the role of Fern so beautifully you'd think it's her life story. Her riveting quietude, hearty charm and nuanced control of emotions result in a truly wondrous performance.
McDormand captures the atmosphere perfectly, personifying the film's themes. The way in which Fern drifts around, easily attaching herself to people creates an instant connection with her, as if you met her you know you'd be friends. McDormand brings such warmth to a character that should have none left and it's impossible not to enjoy it. There's no doubt she'll be competing for Best Actress.
The Verdict
Whilst its framing of Amazon is unclear, Nomadland translates its feelings about America and capitalism superbly. A multi-layered, well-adapted story directed to perfection by Chloé Zhao, it is at once painful, touching but ultimately hopeful. The film's beauty is astonishing, a delicious mixture of natural light and colours that is a real treat on the eyes. Frances McDormand, effortlessly brilliant once again, stakes her claim for a 3rd Best Actress win with a compelling, soulful performance. Quite frankly, this film is a work of art. Watch out Oscars, here comes Nomadland. 
Rating: 9.5/10
Words by Elliott Jones
Other reviews from the London Film Festival can be found here.
---
Support The Indiependent
We're trying to raise £200 a month to help cover our operational costs. This includes our 'Writer of the Month' awards, where we recognise the amazing work produced by our contributor team. If you've enjoyed reading our site, we'd really appreciate it if you could donate to The Indiependent. Whether you can give £1 or £10, you'd be making a huge difference to our small team.