On June 11 2020 was the date when news of the anime series Shaman King bomb dropped. Safe to say, nobody saw it coming.
It has been a desire for many nostalgia enthusiasts to re-experience such glorified memorabilia of their childhoods. The past few years have been rife with old anime coming back to reclaim their place in mainstream culture. From spin-offs like Yashahime: Princess Half-Demon or Inuyasha, or a whole entire reboot like the 2019 version of Fruits Basket, old anime has made a comeback. This particular remake, however, was an unexpected announcement.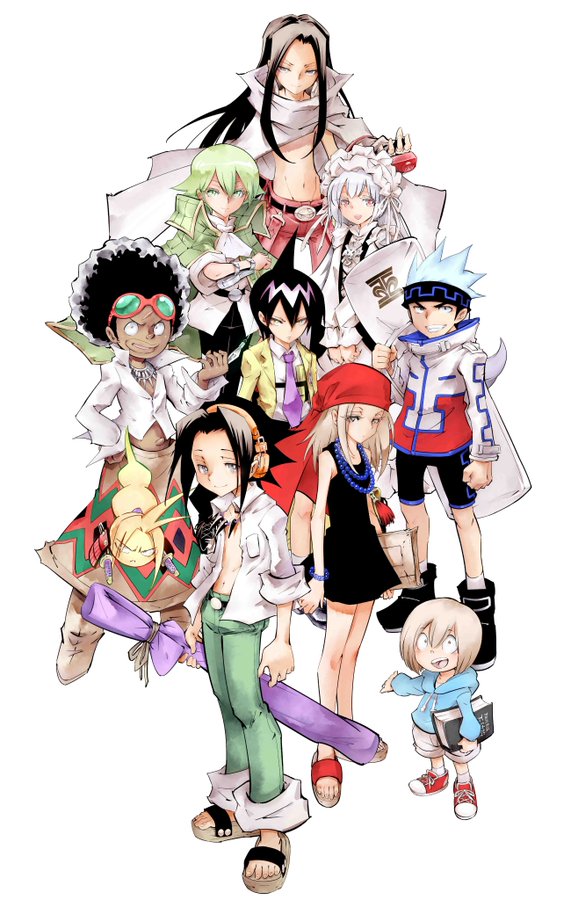 Shaman King by Hiroyuki Takei was first released as a manga series that ran from 1998 to 2004. It tells the story of Yoh Asakura, a lazy and carefree 13-year-old boy. He wants to one day live an easy life, and to do that, he must win the once-every-500 years Shaman King tournament. On paper, this all seems simple enough; it follows the typical structure of a protagonist with goals they are working towards. But what makes this series such a unique experience is the representation of characters and cultures. The series explores so many different countries, and their interactions with the spiritual realm through their traditional beliefs.
Its first incarnation was published in Weekly Shounen Jump and ran for 32 volumes before it was cancelled. It was later reprinted in its complete form of 27 volumes throughout 2008-2009 in Japan. As a result of the manga's success, it was adapted into an anime in 2001. This exposed the franchise into an even wider audience, one that to this day still continues to support its creator. However, the 2001 anime series told its own story and diverted from the original manga events.
Since its completion, many have wanted to see the entirety of the series be re-adapted into a different anime; one that is closer to the original story told by the manga. Several anime creators have voiced interest in doing so – such as MAPPA founder Masao Maruyama. Takei himself has previously had to turn down a potential anime remake "because they were unable to use the first anime's voice actors and soundtrack music". Even the original director of the 2001 anime, Seiji Mizushima, has been an avid supporter of the series beyond his previous involvement.
The 2021 remake will follow Takei's desire to retain the previous voice actors of the 2001 series. The characters Amidamaru, Anna Kyouyama, and Hao Asakura remain voiced by the actors Katsuyuki Konishi, Megumi Hayashibara, and Minami Takayama. Yoh's voice actor sees a change from Yuuko Satou to Youko Hikasa. Bridge (Fairy Tail, Yu-Gi-Oh: Sevens) will be adapting the new series with Takeshi Furuta (Inuyasha: The Final Act, Haikyuu!!) directing it. Toshihiko Sano (Fairy Tail, Ace Attorney) will be doing the character designs, while Yuuki Hayashi (My Hero Academia, Blood Lad) and King Amusement Creative will be in charge of music composition and production.
The Shaman King franchise as a whole has endured the test of time all these years in obscurity. It has spawned several spin-off manga series and sequels, and remains an ongoing adventure up to this very day. There are many anime series that use similar themes of spirits and the corruption of humanity. But none of them do it quite like how Shaman King does. It is that mark of individuality that continues to surge life into what should have been a dead franchise.
In preparation for the series' 2021 release and in celebration of its 20th anniversary, Kodansha Comics will release the English translations of the complete series via Comixology with the first volume out on October 6, 2020. The anime series is set to release on April 2021, and you can watch the latest teaser trailer for Shaman King below.
Words by Mae Trumata
Support The Indiependent
We're trying to raise £200 a month to help cover our operational costs. This includes our 'Writer of the Month' awards, where we recognise the amazing work produced by our contributor team. If you've enjoyed reading our site, we'd really appreciate it if you could donate to The Indiependent. Whether you can give £1 or £10, you'd be making a huge difference to our small team.