Break ups bloody suck, we all know that. And it's not just the awkward break up conversation; it's the sad head tilt people give you; the awkward explanation that actually Bob dumped me… And of course a lot of crying into Ben and Jerry's tubs (a big ol' cliche I've found myself partaking in).
It doesn't matter how mutual the break up was, every dumper and dumpee will be in the same boat, experiencing that universal break up gloom where life is just kind of shit.
Unfortunately, COVID has been the catalyst for a fair few break ups. One law firm even reported a 40% rise in divorce inquiries during the UK lockdown. It's not a huge surprise really; couples stuck isolating in confined areas all the time… and that's before even mentioning the stress of a worldwide pandemic.
But now there are many people – myself included – who are newly single and ready to move on from that woeful period. So it seemed the ideal time to delve into all the different break up cures and find the perfect fix for a broken heart.
1. The Robin Scherbatsky 10,000 Drinks Theory
The characters of How I Met Your Mother discuss break up cures in season 4 episode 9. One of these cures begging to be tested was Robin's: "Exactly 10,000 drinks, however long that takes".
I've heard a few variations of this: mad nights out to distract yourself from that heartache, or simply drowning one's sorrows. As I didn't have the stomach or 5 spare years to test the 'Robin Scherbatsky 10,000 drinks theory', I decided to test a combination of the above ideas instead. 10 drinks proved very effective in distracting myself from being sad. After that final drink, I'd forgotten what my ex even looked like, let alone that cute nickname he gave me, or nice things he did…
It should be warned that this 'cure' is a risky game and should be approached with serious caution. Otherwise, you're waking up in a pool of vomit and a dead phone from calling the ex 37 times.
2/10: It's a temporary solution to the situation, and can go wrong after too many tequilas.
2. Get Under Someone
"Oi oi luv, the best way to get over someone is to get under someone ;)"
Said in a vulgar manner from a lot of creepy guys, but according to the science, it may actually be a great break up cure – kind of. According to this study, having a rebound relationship can be great for your self-esteem (which is often diminished after a break up) as well as helping you get over that previous partner. Participants in the study got over the break up a lot better if they rebounded, as opposed to staying single. Well that's my year of chastity out the window.
According to the internet, it's not just a rebound bang that'll help you move on, but an orgy is what *ahem* hits that spot.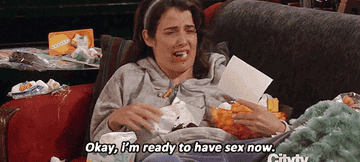 Although it seems like a good cure, it's probably worth mentioning that shagging strangers mid-pandemic probably isn't the best idea, so maybe skip this 'cure' until the virus quietens down a bit.
6/10: The science says 'go for it', while COVID says 'keep it in your pants'.
3. Glow Up
A glow up can solve anything… for at least a few seconds. That dopamine kick from hitting 100 likes on your glow up Instagram – or 12 if you're me – will really do bits for your confidence. Of course you don't ever need to look a certain way to feel fabulous; but a hair cut or new outfit can do wonders. A good friend of mine went through 4 hair dye jobs after a break up. It feels good to reinvent yourself, or try something new.
Some people also channel their break up feelings into the gym, wowing the world with their six packs a few months later. To that I say good for you – but I'm cracking open a six pack of Dark Fruit instead.
4/10: The confidence boost, although small, can be great. There's better than looking in the mirror and telling yourself how beaut you are.
4. Pick Up A Hobby:
Whether it's OnlyFans or knitting, picking up a hobby is a great way to distract yourself, and maybe even bring in a bit of cash. In Friends, Monica gets over Richard by making lots of jam. So I decided to distract myself too; I painted my bedroom, started running 5Ks, and wrote a half a book (well… half a chapter anyway).
I also threw myself into a new job and caught up with every friend I've had since the age of 12. The art of keeping busy is one of my best talents.
Although it can be helpful to sit in and have a good cry sometimes, throwing yourself into a new project can remind yourself there's more to life than Ben and Jerry's 'Phish Food' and Brooklyn Nine Nine. It's called balance.
8/10: a great way to stop all the moping about.
5. 'Time Will Heal A Broken Heart'
It's often the last thing you want to hear when you're heartbroken. Thanks mum, I'll just be sad for the next year then?!
There's so many variations on this 'cure' too: with strict estimates for how long it'll take to feel 'normal' once more. I've heard, 'a week for every month you were together', 'a month for every year you were together' And even 'a day for every year you were together', according to this scorned ex-lover.
It's annoying, but 'time' is probably the best solution mankind has found… and we all know that deep down. It's only been a few weeks since my break up, but already there's significantly less wallowing and weeping than those initial break up days. Of course I'm not 'cured', and I won't be ready to date again for a while but I know that time is the true break up cure.
9/10: I mean nothing can be a perfect 10, but as that wise old saying goes, 'time will heal all wounds'.
Words by Amber Middleton
---
Love Lifestyle? Read more here.
Support The Indiependent
We're trying to raise £200 a month to help cover our operational costs. This includes our 'Writer of the Month' awards, where we recognise the amazing work produced by our contributor team. If you've enjoyed reading our site, we'd really appreciate it if you could donate to The Indiependent. Whether you can give £1 or £10, you'd be making a huge difference to our small team.