On the face of it, Netflix's latest original, The Devil All The Time, was an enticing prospect and rightly so. From director Antonio Campos (Martha Marcy May Marlene) and featuring the talents of Tom Holland, Robert Pattinson, Bill Skarsgård, Sebastian Stan and many more, there were certainly high expectations for this film. Adapted from a 2011 novel of the same name, the film follows a variety of dark and bizarre threads that ultimately interlink to devastating effect.
The plot mostly follows Arvin Russell (Tom Holland), a young man whose life is connected to the film's multiple storylines in all manner of crazy ways. Whilst the execution of these various narratives generally work well, The Devil All The Time suffers from chaotic writing and editing. Tonally, this film constantly jumps from brutally bleak to laugh-out-loud levity and it's confusing. It's difficult to gauge whether this is deliberate or not, but the Coen Brothers-esque feel to it suggests otherwise. Whether or not Netflix were worried audiences might not take to the film's depraved subject matter without a little humour involved remains to be seen. Though it is a little jarring, the comedy actually pays off well for the most part, creating surprisingly funny moments, albeit with the help of the film's stellar cast.
The script, whilst flawed, is certainly improved by the acting talents at the film's disposal. Tom Holland leads well in his first major post-MCU role and tackles character Arvin's Southern accent impressively, whilst bringing likeability and physicality to a demanding but solid performance. Robert Pattinson unsurprisingly steals the show as Preston Teagardin, a creepy, evil preacher whose every last word in that high-pitched, whiny Southern drawl you can't help but hang on. Similarly to his role in The King, Pattinson plays on campy elements of his character brilliantly to great effect. Though his screen-time is small his impact is felt.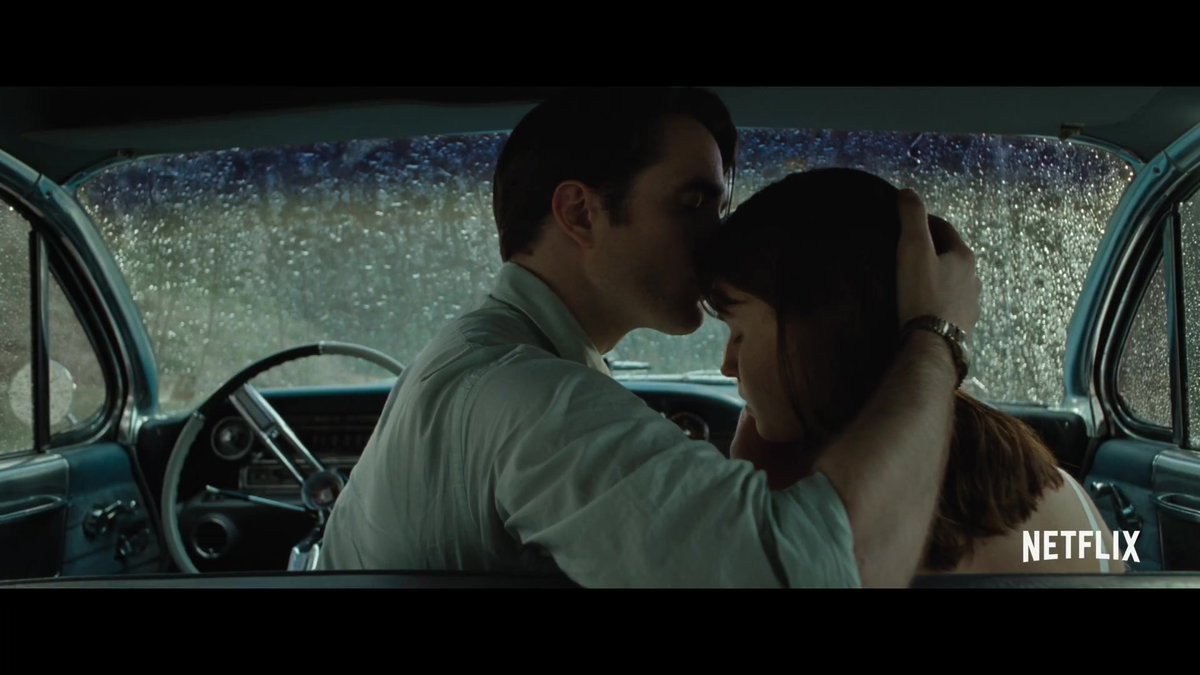 Impressive also are Eliza Scanlen, Jason Clarke, Riley Keough and Sebastian Stan. Scanlen plays Arvin's 'sister' Lenora, a tragic character that serves as the film's emotional core. Clarke and Keough are a perverted serial killing duo who's random encounters are sometimes cleverly linked to the plot but others are totally random and annoyingly take you out of the main narrative. Stan is a corrupt sheriff hellbent on staying in power and he plays the villainous role well. Harry Melling, reminiscent of his role in The Ballad of Buster Scruggs, is a hilariously deluded religious man believing God's voice speaks to him. Finally, Bill Skarsgård certainly leaves Pennywise behind with a strong performance in the film's early sequences.
The only problem with having a stacked cast like this is showcasing them all, where The Devil All The Time fumbles. Despite a lengthy 2 hour, 18-minute runtime, the film's opening act is a strangely structured, oddly-paced mash-up of characters and stories that awkwardly jump forward and backwards in time. Though this is clearly an attempt to give exposition to the film's general plot, the editing shoehorns famous faces in and makes the film incoherent at times. Though the film is long, certainly a slow burner, it succeeds in its ability to grasp the viewer. Having a film like this available on Netflix to watch at home, with a plethora of distractions available, it always keeps you interested.
Where the film's tone in terms of the script is messy, the score also offers a confusing sense of hope, set to a backdrop of depressingly bleak images. Its lighting, work, cinematography and general sound are well done and the heavy violence isn't gratuitous, save one or two pretty uneasy moments. The themes of The Devil Are The Time are as dark as you find in mainstream films, so by no means is it a wholly pleasant watch. It may leave you in need of watching a warm comedy afterwards but it delights in its discomfort in an affecting manner. 
The Verdict
It's a shame that The Devil All The Time has such frustrating flaws, as there are many enticing elements about it. An ensemble cast delivers a messy script well, let down by tonal confusion. The darkness of the story is undermined by oddly-positioned humour and a nice-sounding but clear mismatch of a score. Even if it has shades of the Coen Brothers it just plays off bizarrely. A rushed, opening act pieced together to give big names screen time and offer exposition arguably make this needlessly complex. A slight let down but an engaging watch nonetheless.
Rating: 6.5/10
Words by Elliott Jones
You can watch The Devil All The Time here.